After the winter it was time to finish the wooden terrace. Now it is also possible to enjoy the patio that got created. The big wooden terrace of 35m2 gives the house of 35 m2 a really spacious atmosphere.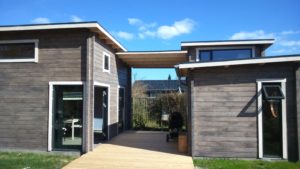 We used different substructures for our terrace. On top of the grass we used ground sockets for hammering. Our earth has a lot of clay, so the sockets are very stable.
For the terrace between the houses we had to use a different method, because here we did an underfloor heating that can be used in the future, when the terrace gets closed in this area.
Since the concrete became a little bumpy, we needed something that was easy to adjust, and found a screwable stelz bearing system.