As mentioned in my last post, there is a really fine tool to calculate the heat loss of building components of your house.
You can find this online tool on a page called: www.u-wert.net
This page is available in German, English, French and Dutch.
The following 3 screenshots are taking from the website www.u-wert.net. with their written permission.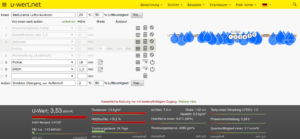 The first screenshot shows the house without any insulation.
As you can clearly see, a lot of condensation appears. Furthermore a lot a energy is needed for heating up the house.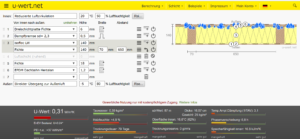 The second screenshot shows the roof component with insulation. The u value definitely increased, but the ordinary steam barrier doesn't give the possibility for the condensate to exit the insulation again, so the wood construction can get too humid and mold might occur.
On the third screenshot the intello/pro clima steam barrier was used. Here you receive the best results, with a higher u-value, and little condensate in the wood construction.