I have just finished a series of 3 mini-houses to Sølund huse from Hovedgård.
The series includes 3 types of 22m2 (+ loft 10m2), 12m2 (+ loft 6m2) and 9m2, and will soon be available for purchase on the Sølund House website.
The series is based on the "tiny-house" idea.
The houses convey the feeling of spacious generosity even though they have only a small base area.
The facades and floor plans are designed from the golden cut's principles,
which is based on nature and creates a harmonious and at the same time exciting
expression.
– "Live Big In A Tiny House" –
22m2
The house of 22m2: With the help of the smart floor plan, there is a larger private area in it
rear part of the house.
The separate room can be used in many ways, for example, as an extra
bedroom, bathroom, office or kitchen.
The loft utilizes the space optimally and offers sleeping or storage.
15m2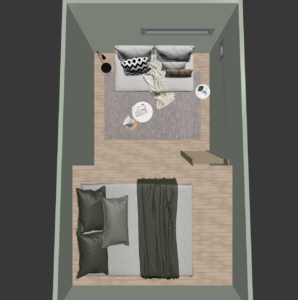 15m2